Marketing Like MacGyver -A Guide for Small Business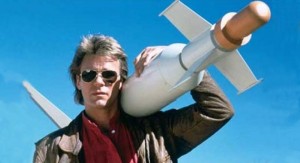 Marketing is one of thoses things small business don't do enough of, or in many cases they believe it is too expensive for them to do. When it comes to getting yourself out there and attracting customers, your average small business doesn't have the money to hang with the big boys.
That's why you need to market like MacGyver, you need to make something out of nothing. For those of you who are not familiar with this 80′s hit icon, MacGyver was agent who used his vast practical knowledge of science to get himself out of any situation. He would come up with a solution to any situations using just the mundane items around him. Here is a few ways you too can be like MacGyver with your business marketing.
First Step to Marketing. Internet Presents
In this day and age we live in a internet driven economy, people use the web everyday to find new places to go or new business to try.Whether you have a full fledge eCommerece site or just a FaceBook account, your business needs to be on the internet. Here is a list of the most popular places to start showing off your business.
FaceBook Pages – There are over 400 million active users on FaceBook, why not make a page for free. Head over to http://www.facebook.com/pages/learn.php? to get started now.
Google Places – Google the biggest search engine on the internet why not put your business information there for people to see. Get started now at http://www.google.com/places/.
Yelp – Yelp is a review and search engine for local businesses. This is a great way for your customers to find your business, web or via their own mobile apps for android, windows, and iOS. Register your business or claim the already existing on on their site at https://biz.yelp.com/
Yellow Pages – Not your same old book that everybody got and threw out. The new YellowPages.com is a great source of potential customers. Get your free listing started by following this link http://adsolutions.att.com/advertise-with-us
Google+ Pages – Just like FaceBook, Google has their own social media pages for their new platform. Start building your Google+ Page today at http://www.google.com/+/business/Â 
LinkedIn – Linkedin is the leading social media site for businesses. This is a the best way to network with other business owners or possible new customers. I personally have used Linkedin to generate leads and network with potential business partners. Create your personal profile today at http://www.linkedin.com
Bing – Another up and coming competitor to Google is Bing. Claim your business or add a new one to their search engine at http://www.bing.com/businessportal
WordPress- If you just want a simple free blog or web page that is easy for you to setup, WordPress.com is your solution. WordPress allows people who have no website experience to create one. This is a great place to start your business's first website with out having to pony up cash. To get  started today building your own website/blog goto http://www.wordpress.com
Increase visibility in your community. Networking
Join your local organizations like the Chambers of Commerce, and network with other business owners. You need to let your community know you exist, even if that means dressing up and handing out flyers to all the businesses in the neighborhood. This is a great way to introduce yourself  and possibly make new business relations with other owners. I personally plan do this in the near future just to advertise this new website and my services. The more people you know the easier it is to spread the word about your business.
Use your website/blog, do some social media try to connect with as many people as possible. Â When it comes to social media no one wants spam, try to contribute to conversations, try to get involved with forum discussions about your type of business.
When you aren't walking around or connecting to people via the internet, start making those phone calls to potential customers. Cold calling is hard at times but is essential cheap marketing tool. Try to get on the web using the same tools that you registered your business to to find other business. A great way to form new business relations and find new customers is to use LinkedIn.
Reward existing and new customers. Incentives
People like deals, so why not give them what they like. People are always looking for that extra something, the reason to go to business B over business A. In the past working in the cellular industry, we used to give free accessories for phones purchased. Another way I attracted repeat customers was the fact that I offered better customer service then my competitors by being better informed about my products or services. Â Its all about getting the incentives across to your customers whether it be your service is cheaper, or you are giving away a free gift, it all comes down to why should I choose your business over someone else's.