10 Benefits of Having a Website for your Business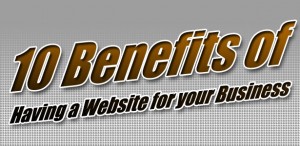 In today's economy a website is great investment for any business venture. A business website can be very versatile in that it can be used as not only as a form marketing but as a market research tool. Having these tools allow many business to gain the upper hand over their competition. I have talked to many business owners over the years, and every once in a while I come across one that thinks having a website is not good enough of an investment to benefit their business. Here are 10 benefits of having a business website.
1. Expand your Market
The Internet will allow your business to break geographical barriers and become accessible, virtually, from any country in the world by a potential customer that has Internet access.
2. Cheaper and more Adaptable than Print Advertising
Space on the Internet is cheap, very cheap, and your advertisement is accessible for longer periods of time or indefinitely. You also can control the content directly, no more waiting for someone else to make a change.
3. Increase Revenue
Depending on your type of business you could potentially have access to a diverse range of revenue streams.
4. 24/7 365 Days a Year
Don't turn customers away when offices hours are over. Let them find information or services via your website.  Use a website as a customer support tool allowing them to seek information at all times of the day.
5. Convenience
It is more convenient for a person to research a product or services on the Internet than it is to get into a car and drive somewhere. A potential customer can visit your website whenever they like in their own privacy and comfort without the stresses and distractions that exist in the real work.
6. Add Value and Satisfaction
By offering convenience, a point of reference and that touch of individualized customer service, you ultimately add value to your offering and your customer experiences a higher level of satisfaction. Your website can add value in other ways too, by featuring tips, advice, and entertain your customers. This will also help them remember you better.
7. Improve Credibility
A website gives you the opportunity to tell potential customers what you are about and why you deserve their trust and confidence. In fact, many people use the Internet for pre-purchase research so that they can determine for themselves whether a particular supplier or brand is worthy of their patronage. The Internet also allows for Viral Marketing where your website visitors spread positive word-of-mouth about your business – your customers do your marketing for you.
8. Growth Opportunity
A website serves as a great place to refer potential investors to, to show them what your business is about, what it has achieved and what it can achieve in the future.
9. Two-Way Communicative Marketing
Customers can quickly and easily give feedback on your product and or services.
10. Cheap Market Research
You can use features on your website such as visitor polls, online surveys and your website statistics to find out what your customers like and how they feel about certain aspects of your business. Use this information to determine how you can improve your product/services and the way you do business.